Starting a new dentistry practice and need to print professional business cards fast? Take a look at these cool templates for dentists and dental hygienists. Use the logos for stationery items like letterhead, envelope, poster and other printed materials. Customize any design and learn how to add your contact information to the layout. Advertise your domain name on the cards to get more visitors to your website. Informing people online about dental treatments like teeth whitening and implants can help grow your company. Your dental clinic will look professional and the number of patients will grow.
View more amazing business card templates and backgrounds.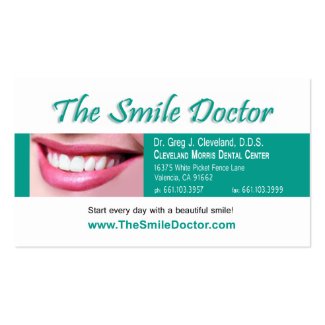 The perfect smile for the perfect business card. Use this template with your own contact details. The only thing i would change are the fonts. The script letters on top i would change in a modern sans serif. This would make the design a bit more serious and professional. The information in the green part is a little crammed. Give it more space.
A standard business card template including a round logo of a tooth with a smiley face. The blue colors are well chosen and should leave a good impression. The black letters i would change to blue and white for the bottom.
A fresh looking appointment card template with a photo image of a toothbrush and toothpaste. The back side you can use as your business card. The light blue colors on a white background give it a clean feel.
Other resources for dentists
Books on marketing your dental practice